Over the winter of 2015-2016, I stopped by Matt's house in Ballard a few times to help him build the hulls for his V16 R2AK.  It was a pleasure to work in his recently re-organized shop, in part because I always get good ideas about how to improve the work space in my garage and often get to try using nifty tools — some of which I've never seen before!
December 8, 2015
After checking out the table and chop saw work bench that Matt built, we epoxy coated some long lengths of door skin and then started laying out the bulkhead positions for the amas.  I love that Rick's plans are all-metric!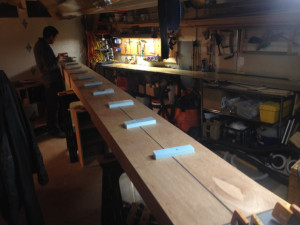 We used hot glue to tack the foam bulkheads in place.  It seemed to work pretty well, though you had to work fast and together to insert the bulkheads before the glue cooled too much.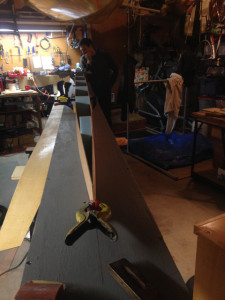 The amas have a nice knife-like profile.  Suddenly straight door skin panels start to look like they might move through the water pretty fast…
January 3, 2016
After the holidays we dry-fitted the base of the main hull.  It was tricky to get the longer door skin panels to hold a smooth curve, especially between the bulkheads and near the re-curved part of the bow.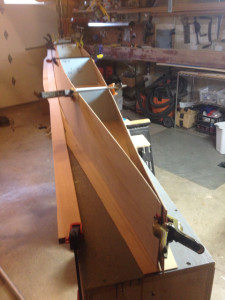 After consulting with Rick, Matt decided to add a few stringers, so we worked together to rip them on his table saw.  I also did some sanding of some a previous epoxy coat that had beaded up in an interesting pattern of stippled patches.  It was nice to have the shop vac set up to filter out the dust.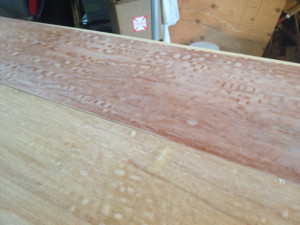 February 11, 2016
Now the main hull is taking form enough that one can imagine pedaling and sailing within it!
We weighed it and Matt portage-posed with it before settling into the main job at hand: gluing decks on the amas.