As the scant official prizes (10k$ for 1st; steak knives for 2nd) of the full Race to Alaska (R2AK) have now been claimed, it's time to focus on the R2AK side bets: $1k for the 1st boat under 20′ to reach Ketchikan; and a Fisheries Supply gift certificate and loaner Seagull outboard for the 1st (most southerly, but still persisting) boat to get tapped out by the sweep boat.
The $1k side bet sponsor, Small Craft Advisor Magazine, published a great blog post summarizing the 16 competing boats, including photos.  Here is a list of all the teams with boats registered for the full race that are less than or equal to 20-feet length over all — from shortest (16′) to longest (20′):
Team
First
Last
M/F
Boat type
Ye

ar

#
Reg team?
2016 Reg order
Reg crew?
# crew
Qualifier start?
Qualifier finish?
Qualifier place
Qualifier time (hours)
Full race start?
Full race finish?
Place
Time (days)
Last point north
Boat model
Hull built for an R2AK?
Cabin or shelter onboard?
Boat cost
Boat length LOA (m)
Boat length (ft)
Shadowfax
Dan
Isaacson
M
Catamaran
2016
97
Y
44
y
1
y
y
16
y
Hobie 16
4.9
16.0
Can't Anchor Us
Tim
Penhallow
M
Monohull
2016
92
Y
39
y
1
y
y
52
y
Swampscott dory w/cabin/etc mods
n
y
$500
4.9
16.0
Coastal Express
Heather
Drugge
F
Monohull
2016
67
Y
14
y
2
y
y
36
y
Mirror dinghy
n
n?
4.9
16.0
Nordica
Ryan
Wegwick
M
Monohull
2016
93
Y
40
y
2
y
y
43
y
Nordica 16
n
y
4.9
16.0
Bunny Whaler
Nate
Rooks
M
Monohull
2016
55
Y
2
y
2
y
y
38
y
Boston Whaler Harpoon w/rowing station
n
n?
5.2
17.0
Vantucky
Justin
Bay
M
Trimaran
2016
64
Y
11
y
2
y
y
31
y
Windrider (WR17)
n
n?
$10,000
5.3
17.0
Excellent Adventure
Bill
Gifford
M
Monohull
2016
76
Y
23
y
2
y
y
39
y
Montgomery 17
n
y
5.2
17.0
Sea Runner
Thomas
Nielsen
M
Monohull
2016
73
Y
20
y
1
y
y
24
y
Seascape 18
n
n?
5.5
18.0
Gold Rush
Mark
Dussel
M
Trimaran
2016
75
Y
22
y
1
y
y
50
y
n
Haro Strait
Custom tri w/rotate-in amas – Trika 540
y
5.5
18.0
Angus Rowboats
Colin
Angus
M
Monohull
2016
56
Y
3
y
1
y
y
17
y
Row-cruiser modified w/ketch rig
y
y
5.7
18.8
Heart of Gold
Karl
Kruger
M
SUP
2016
74
Y
21
y
1
y
y
41
y
n
False Narrows
19′ stand up paddle board
?
n
5.8
19.0
Liteboat
Mathieu
Bonnier
M
Monohull
2016
61
Y
8
y
1
y
y
40
y
Liteboat rowboat modified to sail
y
n
6.0
19.6
Squamish
Chuck
Gardner
M
Monohull
2016
83
Y
30
y
3
y
y
37
y
Young 6M
n
y
6.0
19.7
Discovery
Roger
Mann
M
Trimaran
2016
54
Y
1
y
1
n
DNS qualifier
Frankentri "7 of 9"
n
y?
6.1
20.0
Take me to the Volcano
Matt
Johnson
M
Monohull
2016
63
Y
10
y
1
y
n
NDF qualifier
Custom stabilized monohull w/pedal drive
y
n
6.1
20.0
Why Not
John
Manning
M
Monohull
2016
72
Y
19
y
2
y
y
35
y
1960 Cal 20
n
y
6.1
20.0
Two of these teams did not qualify for the full race.  Both would likely have dramatically altered this R2AK.
Truck-trailer problems prevented solo racer Roger Mann of Team Discovery from making it to Port Townsend with his custom trimaran.  Roger was first to finish solo in the 2015 R2AK, having persevered over the 1200 km course in a Hobie Islander.  This year he initially planned to paddle a folboat north without food (he planned to forage in the intertidal).  Later he prepared a trimaran he'd built for other adventure races, like the Everglades Challenge.
Matt Johnson of Team Take Me to the Volcano managed to get the only boat purpose-built for the 2016 R2AK finished in Seattle, pedal-sailed to Seattle, and started in the qualifier.  Unfortunately, a fatigued aluminum bracket caused one of his amas to separate from its crossbeam shortly after he'd run into the Strait of Juan de Fuca.  When he managed to pedal up wind and current round Point Wilson, Neptune dashed his hopes of continuing with a temporary lashing when both amas were ripped off by steep waves and a crossbeam was broken by the surf.  Undeterred, Matt returned to Seattle to get his rowboat, drove to Port McNeill and embarked on a row back to Seattle — in part to learn more about the race course for his future bids to win!
Of the remaining 14 teams that started the full R2AK from Victoria, three have withdrawn (as of July 1).  Karl Kruger of Team Heart of Gold human-powered his SUP sans sail not only across the Strait of Juan de Fuca to complete the qualifier, but then as far north as False Narrows in the first couple days of the full race — keeping up towards the front of the fleet.  Sadly, his SUP — more heavily loaded than in his previous experiences — caused him to paddle asymmetrically, resulting enough knee and hip pain that he was forced to retire.  John Manning and his crew in Team Why Not made it into the central Gulf Islands in their 1960 Cal 20 before retiring.  Mark Dussel of Team Gold Rush stopped after entering Haro Strait having decided his Trika 540 wasn't up to the long haul north.
That leaves 11 team still in the running for the $1,000 prize.  As of noon on July 1, Team Angus Rowboats was in the lead and exiting Johnstone Strait having benefited from a rare southeasterly breeze.  At one point the tracker showed him making at least 6.0 knots.  In 2nd is 2-man team Vantucky, about mid-Johnstone Strait.  And in 3rd is Team Sea Runners, rounding Chatham Point after solo racer Thomas Nielsen blew through Seymour Narrows at 7.8 knots on the full ebb tide.  The rest of the teams are not far behind and many are poised to transit checkpoint one within the next tidal cycle.  Here's a video I took of Colin approaching Seymour Narrows after dropping Matt at Port McNeill to row back through the fleet to Seattle —
Of the 5 solo teams, Colin and Thomas are in 1st and 2nd, Mathieu and Dan have been swapping between 3rd and 4th, while Tim is not far behind in 5th.  Here's a screen recording of the R2AK tracker replaying their progress in the full race:
And here's the situation as of 2:00 on Sat 7/2/16 —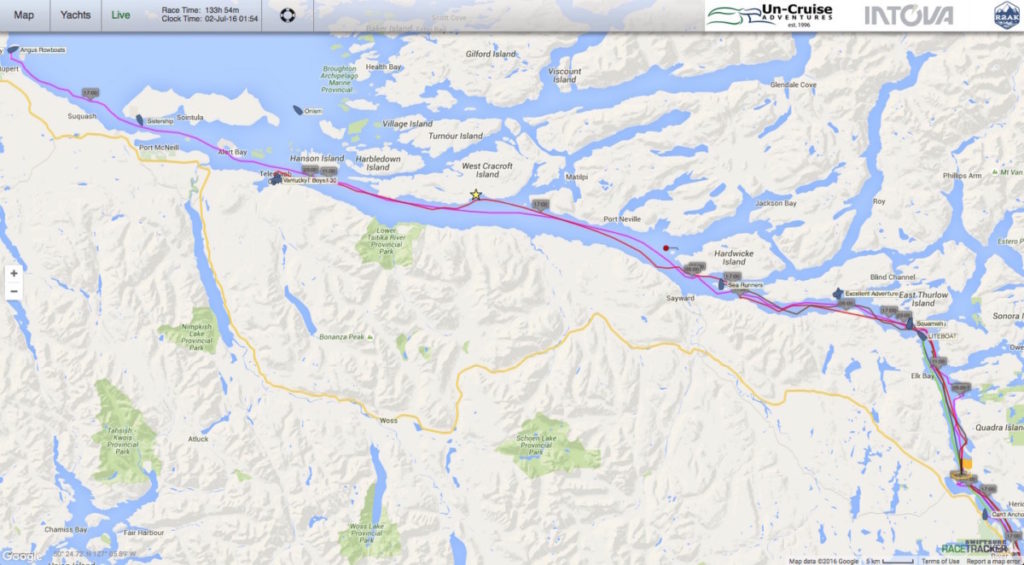 Colin's at Peel Island near Port Hardy. Thomas is at Helmcken Island. Dan is at Turn Island. Mathieu is at Chatham Point. And Tim is positioned to run checkpoint #1 just north of Campbell River.
In the race of <20′ boats for the $1k from ‪#‎smallcraftadvisormagazine‬ —
1st: Team Angus Rowboats (Colin)
2nd: Team Vantucky holed up in Telegraph Cove
3rd: Team Sea Runners (Thomas)
4th/5th: Teams Bunny Whaler and Excellent Adventure on south shore of West Thurlow Island
6th-8th: Teams Squamish and Nordica rafted up with Shadowfax (Dan)
9th: Team Liteboat (Mathieu)
10th: Team Can't Anchor Us (Tim)
11th: Coastal Express off Saratoga Beach south of Campbell River